Show 165 – Money20/20 USA 2022 – Part 3

PRCA members receive 10 CPD points for listening to this podcast if they log it on the CPD programme.
The third of three episodes recorded in partnership with Banking Circle at Money20/20 USA, that took place in Las Vegas on 23rd to 26th October 2022. We recorded a series of interviews on the Banking Circle booth with a number of the speakers and attendees from the conference. Our guests for this third episode were:
1/ Tom Konz, Head of Global Payments, Joor
2/ Vartika Ambwani, Director, FinTech, Silicon Valley Bank
3/ Randy Kern, Chief Technology Officer, Marqeta
4/ Laura McCracken, Managing Director, eCommerce & Payments, Global, Accenture
5/ Mia Alexander, VP, Customer Success, Dave
6/ Ani Sane, Co-Founder & CBO, TerraPay
7/ Katrina Holt, SVP Operations, Affirm
8/ Quincy McKnight, Founder & CEO, Covenant Pay
Tom Konz, Head of Global Payments, Joor
Russell Goldsmith's first guest on this episode was Tom Konz, Head of Global Payments at Joor.
Tom's spoke at Money20/20 on customer experience, the ultimate marketing tool. The panel brought B2C experiences coupled with their B2B experience. They talked a lot about serving the front-end customer with a great experience that makes it easy for them to make purchases.
In the B2B world, Joor is in, it's hard due to the separation of the buying experience can take months, whereas B2C, you go online, put items in a cart, and make a purchase.
There are issues around credit with cross-border issues, currency exchange issues, and deteriorating cash flow. In B2B, cash flow for their buyers and sellers is the number one issue they must deal with. In these small and medium businesses that thrive and try and survive on a shoestring are all looking for access to capital and they're looking to get paid sooner rather than later. Making it difficult in a global environment when you're dealing in different currencies to accomplish that.
The launch of Joor's new embedded checkout solution has seen 100 of their brands sign up already within a month. The unique aspect of Joor Pay leans into the cash flow piece. Tom has spoken to European sellers who say: 'Europeans don't use cards, they don't want to use cards', but they don't use cards because they're not offered the opportunity to pay by card. So, they're able to internationally offer terms to a buyer in one country and provide the cash flow in a different currency to the seller. That makes them unique and especially on their platform, they have so many international buyers and sellers.
The great news for their brands is that when they extend terms to one of their buyers, Joor take the risk and fraud with the money movement off the plates of their brands. Meaning they'll extend terms to a buyer. They solve the cash flow which is at opposing ends of that transaction.
The risk is real, and it really can cut into their margins and hurt businesses. So, when they aspire to grow globally and internationally, that really holds a lot of those brands back, which is why coming on to the Joor platform for any fashion brand globally is really the place to come because they can just help with their digital connections and platform.
From a customer experience perspective, the future of payments includes looking at the buyer as the primary customer they're solutions against and the need to continue to add payment types that they want to use like Apple Pay or adding crypto, real-time payments. Those are the types of capabilities they're going to continue to enhance and grow.
Collaboration and the people he met last year actually helped create JoorPay. So he states there is no unimportant conversation he reinforced having the conversations, collaborating, learning what everybody does, and putting those pieces together, as you'll never know what you might find!
Vartika Ambwani, Director, FinTech, Silicon Valley Bank
Vartika Ambwani is Director for FinTech at Silicon Valley Bank. Vartika's panel at Money20/20 included Scott Sandborn, CEO of Lending Club. Wendy Cai-Lee, CEO, Piermont Bank, and Colin Walsh, CEO of Varo three CEOs who shared their different stories about how they went about getting a bank charter.
In fintech, a lot of companies would work with either a bank sponsor who has a bank license or they would go to obtain their own banking license. Scott from Lending Club, went through getting a license from a different route where they acquired a bank. Colin Walsh from Varo went through obtaining a charter itself, building the process from the ground up and going through the charter route. Wendy shared her story in terms of how she got her own charter, how she powers fintechs who don't have the charter and how they power fintechs to go to market faster. They covered topics such as the current environment, advantages, and disadvantages of each route, what they would do differently, and their advice for the founders.
When talking about challenges, being a fintech in itself is a very regulated industry so obtaining a bank charter is costly. Colin from Varo, talked about having investors who really believe in your story and will stick by you because it's a lengthy and expensive process. And then the other aspect of it is actually acquiring, which is again, very expensive, takes a lot of money and a lot of resources to obtain that. So, Vartika thinks for an early-stage company, it's very hard for them to go into a regulated environment like fintech and build their operations from the ground up. That's why they have banks like Piermont Bank, who will power them, who will work with them and get them to the market faster.
Vartika has been at Silicon Valley Bank for four years now. Before that, she was at two start-ups which are tech-focused bank. They are in the commercial banking space and help companies on the commercial banking side of things. They also do lending and are an ecosystem, supporting their companies not just through capital and lending options, but supporting the commercial banking side.
Silicon Valley Bank take pride in the relationships they build with their clients and really going beyond just being a banking service. The company is release a report talking about the fintech ecosystem, where the investment dollars are going in fintech companies, where the VCs and PEs are putting in money, and how the fintech companies are performing. This report will touch upon what's happening in the fintech space, where some of the trends that they're seeing, and where they see the market going. That report comes out November 8th.

Randy Kern, Chief Technology Officer, Marqeta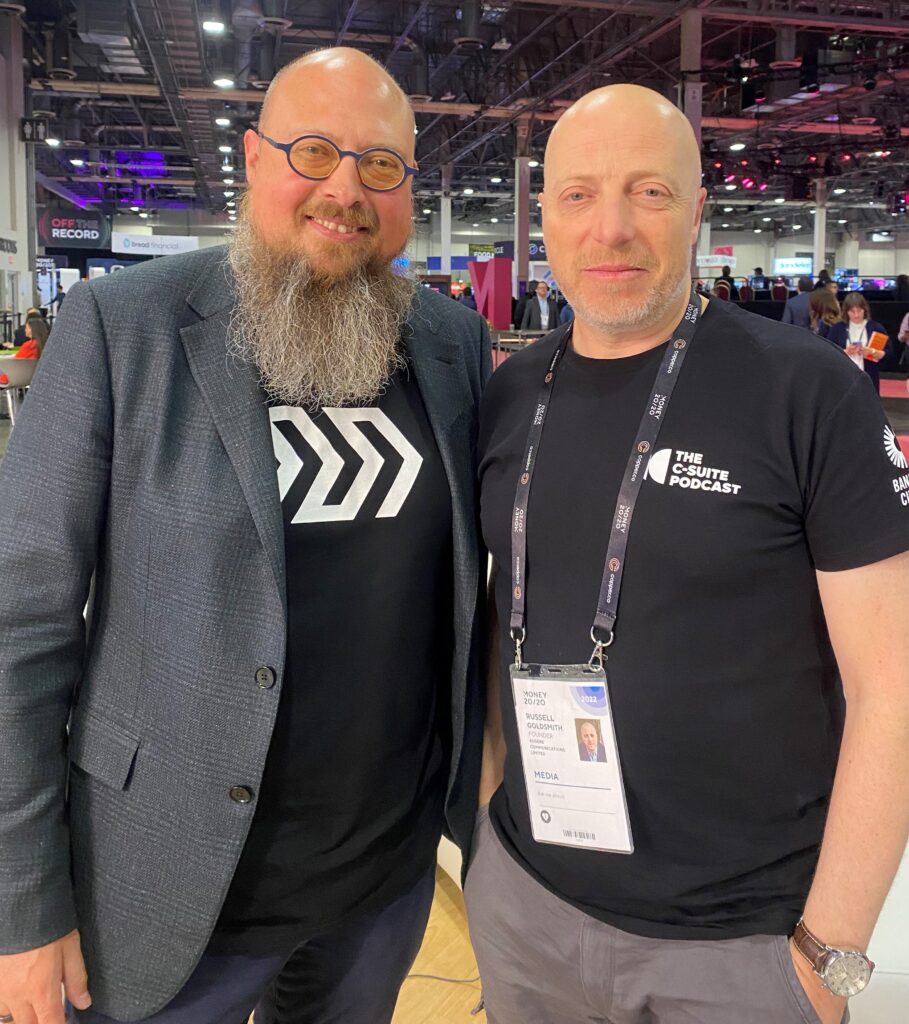 Randy Kern is CTO of Marqeta. Marqeta recently announced the launch of seven new products as part of Marqeta for banking all part of the Marqeta platform, API driven, and hosted in the cloud. They power their customers to innovate in their businesses around digital banking for their customers. There's a direct Deposit account, Bill Pay, and several features there. The main aim is to drive Innovation in the banking Space for Marqeta customers.
Conversations around embedded finance and the idea of bringing your financial capabilities is what he has been hearing at Money20/20. Marqeta bring all of the capabilities, tools, and, financial features that someone needs in their daily life to meet a customer wherever they happen to be. Marqeta for banking helps someone with embedded finance, whether it's a De Novo or Mobile bank. Marqeta is different from the other platforms as they can customize at the transaction level of the account level.
Another announcement Marqeta had is a partnership with Blockchain.com and Raiffeisen. Raiffeisen launched a new card product for their customers in Poland and Romania that uses the Marqeta modern card issuing and processing platform to power those cards on behalf of their customers. Then Blockchain is using their platform to bridge the world between crypto and fiat currency. Marqeta don't do anything directly with crypto, but what they allow their customers to do, especially in the case of Blockchain, is have a Debit card for their consumers that can convert Crypto into fiat.
Randy said that what he really enjoys about this whole segment and the way that Jason Gardner created their platform and company is the innovation that people create on top for them. He added that people have started do things that they never envisioned when the company was begun, or the platform was envisioned. Blockchain is a great example of this as they weren't thinking about how to conduct cryptocurrency to fiat. But the fact that the platform is based on open APIs and it's cloud hosted, it's modern, and it's composable. It allows a huge amount of innovation in their customers so when Randy looks into the future it is filled with excitement.
The conversation of embedded finance is repeated all over Money20/20. Randy finds it interesting to hear ways others are disrupting in their own industries, and he thinks of it not just in the context of embedded finance but also, in tailoring the experience to the individual, account holder, cardholder, and transaction level. This gives a level of control that a consumer or cardholder has never had before.

Laura McCracken, Managing Director, eCommerce & Payments, Global, Accenture
Laura McCracken is Managing Director for Commerce and Payments Global at Accenture and she joined Russ to discuss her panel. With a packed-out room the topic of the future of super apps in the West was very popular at Money20/20. Laura suggests this is down to the idea of the Super app catching peoples imagination.
Laura says there's consensus as the debate of whether it will take off or not is unknown. It's very popular in Asia, but many people in US find no need for it. However, there are also many people wanting it and willing for it to happen.
Laura explained that WeChat has a million apps within it. You cant see them all, you will just randomly come across them when shopping and spending your everyday walk about life. This is different to the West, where she explained there are separate apps for different things that you must manually click on.
Laura the talked about social commerce which she defined as the integration of commerce and social experiences. It's not advertising it's about natively buying while you're in the app. She explained that they are predicting its going to be $1.2 trillion by 2025. Currently its 10% of ecommerce but it's going to be growing to 16.7% of e-commerce by 2025, and that is three times faster than e-commerce and eight times faster than retail. There Is no getting away from this.
Laura then talked about why some of the bigger players in finance potentially oppose super apps moving over to the West. She said 'They do have a vested interest to see that their business doesn't go to a super app or a fintech that becomes a super app. But their real concerns are about privacy, regulation. They've been there, done that.' She explained that they are all things that can be sorted.
There is also a generational resistance to the idea of the super app. Laura finds that the baby boomers are saying, no, I don't trust the social media sites. But the younger generation is less resistant to the idea of one app ruling them all.
laura said that currently, there is Klarna, Block, Revolut, and PayPal trying to become super apps. Laura says it starts off differently in every country. For example in China, it started off with Wechat and with Alipay. In Indonesia, Asia, or Southeast Asia, it started off with ride-hailing apps. She predicts in the US and in Europe, it's going to start off with the wallet, a financial services mobile app. Her second prediction is there will be niche super apps like an entertainment super app, a travel super app, a gaming super app and Metaverse, dating, fashion – where you're connected with the ecosystem, including creators and merchants, and other users.
Laura's key takeaway from Money20/20 was that it's all about the ecosystem and partnerships. It's not about selling; it's not about buying. It's about figuring out who's really playing in the ecosystem and figuring out how we can collaborate. It's all about partnerships.

Mia Alexander, VP, Customer Success, Dave
Mia Alexander is VP for customer service at Dave. Her session at Money20/20 was on the evolution of the CMO, where she was joined by Pam Piligan from Navy Federal Credit Union and Allison MacLeod from Flywire. They spoke about how anyone could apply this to any role, and in any facet to show up for brand loyalty, and customer retention. It was about just getting back to the basics. They were the perfect women for the job and really showed how women can show up in executive roles.
Mia explained that at Dave, their mission is really to use their products to level the financial playing field. And what that means is that the disruption of banking is to solve the complete problem. It's potentially financial literacy, it's also income creation. It's the basic, seamless banking solution and it's goals. They call their customers members and this just really seats them at the table with Dave on this journey.
Their customer base is based on the big banks not showing up for their customers. It's less of a competition and more a case of seeing who can serve customers better.
It's a network effect, the ability for them to use technology to pipe and innovate on behalf of that disruption of big banks.
Dave want to give their customers rewards and bring value back to them. For example, gas stations, how do they create a reward just for the gas station?
Being in a state of economic downturn and uncertainty customers' money is not going as far. That's where Side Hustle comes in where people can look for incremental income for low impact, meaning anyone can take a survey, providing feedback and brands are willing to pay $5-$20. They want to say to customers they can make 15 more dollars doing this.
The CFPB update is really using their voice in a profound way to talk about how a lot of people can't move from one bank to another because it's very difficult. They're now going to look at mandates to allow customers to more easily take their history and transfer their direct deposits when they are ready to move. And it makes that competition around grants asking questions like how are you going to win this customer versus the stickiness that you're actually forcing them to stay with you because of the effort?
Another takeaway is that the creator economy is bursting. This business is creating so much financial impact and it's also so diverse that anyone can find their audience and do that work.

Ani Sane, Co-Founder & CBO, TerraPay
Ani Sane is co-founder and Chief Business Officer of TerraPay Founded in 2015, the idea for TerraPay was to create a global infrastructure for payments and make them more reliable, agile, and to accomplish that they had to make it digital. TerraPay has been able to build an infrastructure of global payments in 103 countries and deliver transactions to 4.5 billion bank accounts around the globe. Be it a Sunday or bank holiday they can get money from one place to another in 30s, working with licensed entities like banks and money transfer companies who help them do the last mile of the pay-outs.
To meet the demand of the customer, everything must be delivered in real-time. Be it Cambodia, Africa, or Europe, 97% of transactions get delivered within 30 seconds.
When looking at the US pay-outs to sophisticated markets like the UK, they have faster pay-outs than countries like Bangladesh.
Ani states: "I see this as a great synergy and a parallel of how we did something unique in Bangladesh. And I know you would say it's like in Bangladesh versus the US, but from a regulations perspective, it's the same."
In terms of infrastructure, Bangladesh doesn't have a good ASH network like the UK. Therefore, instead of waiting for the regulators to build a domestic ASH network (which the Fed is trying to do), TerraPay went out and started connecting with individual banks to create the whole interoperable platform on their own. TerraPay has connected with 17 banks in Bangladesh and can deliver at least 84% of consumers real-time.
When it comes to cross-border payments and future trends, Ani looks at the three pillars:
Real-time payments is what everyone will be speaking about.
Being completely compliant with every transaction
UX. Making the transaction user-friendly and seamless for consumers
Terrapay is a B2B business, however, Ani explained they are also a consumer-facing brand for its partners. When it comes to the future for Terrapay, they want to expand in the US and LatAm.

Katrina Holt, SVP Operations, Affirm
Katrina Holt is SVP of operations at Affirm. She was running a session at the event with Arlene Dzurnak from Caribou and Zach Anderson Pettet all-around compliance.
The session went beyond compliance talking about how you bring together compliance, risk management, and how you operate a business. Arlene and Katrina have been colleagues and friends for 15 years, starting out together in risk management and audit primarily, and then moving into compliance. Through that time, they saw the transition from traditional banking to non-traditional banking to bank partnerships, being on the CCO side of that, and then moving into fintech.
There are differences between working for a bank and working for a fintech. But there are also many differences between being a risk manager and becoming a risk strategist. It is an entirely different model as it is a highly regulated environment. Katrina views herself as more of a technologist now and prides herself on that. Coming to Affirm she brought her banking knowledge and risk management skills and now seeing herself as a technologist she offers financial service skills.
When on the topic of the importance of fintech companies embracing compliance, Katrina explains every year people are talking about regulation and about compliance. Compliance must be at the forefront and the beginning when considering the design and development of new products.
She poses the questions: Who are your consumers? Who are your stakeholders? Who are your regulators?
If you're not asking yourself these questions at the beginning of the process, you're redoing and remaking and costing yourself a massive operational burden. The other thing for a compliance professional that has been important to Katrina is working with technologists and understanding that it's not necessarily the same language all the time. Ultimately you can understand why regulations exist and why compliance expectations exist. It's for the protection of the consumer.
Katrina's role leads operations and she has responsibility for all the servicing, from origination through to recovering the dollars owed. She also does all the fraud operations and merchant operations. For Affirm, the biggest thing is the complexity of what you're building and building it fast.
Being at Money20/20 Katrina has noticed everyone is talking about navigating the ambiguity of the regulatory environment, how you regulate the space and how all these things come together in a way that doesn't crush innovation and disruption. The number of companies that people have developed to really tackle very nuanced pieces of the whole financial services ecosystem is fascinating. It used to be a bank developing all these capabilities in-house and it's now a tapestry of innovative companies. Katrina says that Money20/20 has an 'optimistic vibe' at a time everyone is working through some weighty challenges. It still has that optimism of what can be for the future.

Quincy McKnight, Founder & CEO, Covenant Pay
Our final guest was Quincy McKnight, CEO, and Founder of Covenant Pay. The company is headquartered and founded in Nashville, Tennessee as a traditional payment rail system company.
Being an African American leader within this industry, he relates the rise of blockchain meaning an inclusive financial system to the African American community. Business owners are actively participating in the blockchain industry because of the benefits crypto brings to the table. This decreases the wealth gap and that's where inclusion comes in.
Going into detail on his talk at Money20/20, Quincy spoke on 'The Power of the Minority Transaction in the Future of Digital Currencies'. He commented on the myth of the six-hour black dollar, which suggests that the dollar circulates in the African American community for 6 hours. There have been debates over the years about whether that was true or not. The federal government never did a study and there have been universities like the University of Chicago, the University of Georgia, and Economic Centre of Studies that have created studies. They've done the research and polling to show it is real.
Blockchain is going to decrease the wealth gap when helping communities of colour and by making the system more inclusive. As the wealth gap is currently a big barrier. It will also bring trust to communities around the US and around the world that haven't before trusted the normal traditional finance systems.
Quincy's key takeaway from Money20/20 is that everyone is seeing the direction of payments. It has been very instrumental in waking up the world, especially the leaders at the conference, and it allowed the other leader to see that payments are aggressively moving forward.
Bankingecommerceembedded commerceembedded financefintechOpen BankingPayments